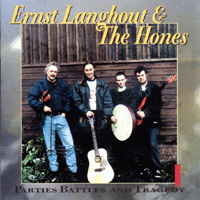 ERNST LANGHOUT & THE HONES:"Parties Battles And Tragedy"
(Universe UPCD 98339)
(CD/12 songs)
Ernst Langhout's CD with the Hones is something else. Here he plays a stubborn mix of folk, rock and worldmusic (fusionfolk?) Plenty originals and some interpretations of mostly Irish folktraditionals and covers of Bob Dylan, Neil Young and Patti Smith.If you'd told me that Ernst Langhout was an Irishman I would have believed it as well. He sure sounds authentic enough. This music has a lot of spirit so the label of open sandals and woolly socks music really is not necessary. No, Langhout proves that folkmusic still can be exciting as well. "Black Jack Davey" is an Irish traditional and is played with a lot of fire here with the harmonica taking care of the tin whistle parts and a cutting fuzzguitar."Follow Me Up To Carlow" is also an Irish traditional and sounds like a stirring battlesong with its tin whistle and fiddle."The Blacksmith" is an original and is a heavy rocking swinging folksong while "Cemetary Of My Senses" is a mix of countryrock and folk with a heavy rocking sound."What Goes Up" (an original as well) is a merry folkrock/hillbilly song."Scotland The Brave" is a Scottish traditional in which the harmonica replaces the bagpipes. A very unusual cover with fat folkrock and merry country influences. Folk music with a modern touch. A very professional sounding CD.
Recensie uit: http://www.geocities.com/nlgroovemaster/Mastergrooves31.html

[vorige pagina]