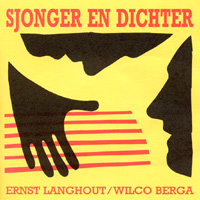 ERNST LANGHOUT & WILCO BERGA:"Sjonger En Dichter"
(Universe UPCD 98347)
(CD/12 songs)

Ernst Langhout is a very versatile man. These two CD's prove that. After a period of new wave he got into the folk music scene but does that in his own way.His project with the Frisian poet Wilco Berga is very special. The poet reads his poems and sometimes joins the singing in the refrains with his scratchy voice. Langhout accompagnies the poetry in a Leo Kottke style of playing.It works beautifully in "Hjoed De Safolste" , an acoustic dark folksong with Langhout on a cutting harmonica as well. His guitarplaying is very exciting here. The stately sounding "It Wetter En It Gers" is a real juwel. Chet Baker takes a peak in "Waarm Is'T" with a nice warm trumpet played by Arend Huisman. Bob Dylan's "Everything Is Broken" (Alle Bonken Brutsen here) is an uptempo folkrocker with both Langhout and Berga on vocals.On "Ouwe Sneeuw" Berga has a solo spot, playing the electric organ and reading a poem. A very minimalistic song. At a certain point the combination of Langhout and Berga gets a bit tedious but the above mentioned songs are strong enough to make this CD an unique and well sounding CD.